At our location in the heart of downtown Winnipeg, we offer deluxe Spa Body Wraps primarily to help you relax and refresh your whole body. Our secondary reason is because Body Wraps are a fabulous way to introduce first time guests to Aveda Body Treatments. See our listing below for more information about these fabulous experiences.
Body Wraps
Pure Essence Body Wrap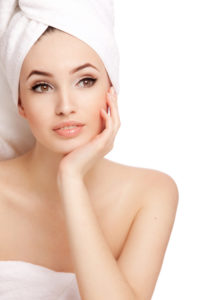 1 hour, $80.00
We begin with a Sensory Journey using aromas from Aveda"s Singular Notes Collection. After your dry body exfoliation with a "Loofah" like set of gloves, the primary aroma you've chosen is added to the warm Plant and Flower oil and is gently massaged over the entire body. Next, you're wrapped in warm towels which helps keep the body as warm as possible, this warm application also helps open the pores so the moisture will penetrate into the skin to better to promote detoxification and refreshing of the skin. Enjoy a complimentary facial cleansing and scalp massage while  wrapped up for 15 minutes in the warm aromatic towels.
Rosemary Mint  Body Wrap and Body Polish
1 hour, $80.00
To begin this uplifting and invigorating experience, we gently polish the skin with a "Loofah" like glove to remove old surface cells. This makes the skin soft and healthy looking. It also opens the pores to help release and prevent ingrown hairs. Once the exfoliation is completed, "Rosemary Mint Body Lotion" and a balancing composition oil are mixed and together they are applied  over the body. At this point in the procedure, the warm aromatic towels are applied.  Then a 15 minute complimentary face cleansing and scalp massage are performed.
1 hour $90.00
Mineral rich salt crystals comfortably polish away surface cells ready to leave, while certified organic plant oils melt moisture into the skin. After the exfoliation by Aveda's "Beautifying Body Polish" is removed, an application of "Beautifying Body Moisturizer" along with drops from a balancing composition oil are mixed, then applied all over the body. Next, heat in the form of hot aromatic  towels are placed all over the body to further enhance the retention of the moisturizer and balancing oil composition into the skin. This experience has a complimentary face cleansing and scalp massage.
Comparison of Body Wraps:
|  Includes: | Pure Essence Body Wrap | Rosemary Mint Body Wrap and Polish | Beautifying Body Wrap and Polish |
| --- | --- | --- | --- |
| Sensory journey | X | | |
| Ingredients | Plant Oils | Plant Oils | Plant Oils |
| Exfoliation | using dry gloves | Rosemary Mint Body Scrub | Beautifying Radiance Polish |
| Heat application | X | X | X |
| Masque | Plant Oils and Composition oils | Rosemary Mint Body Lotion Composition Oils | Beautifying Body Moisturizer Composition oils |
| Masque removal | hot towels | hot towels | hot towels |
| Massage | scalp | scalp | scalp |
| Cleansing, toning & moisturizing | X | X | X |
| Benefits | calming | invigorating | detoxifying |
| Partners well with: | massage, facial | massage, facial | massage, facial |
| Price | $80.00 | $80.00 | $90.00 |
| Duration | 1 hour | 1 hour | 1 hour |